Bathgate Secures £250k Finance

for family flooring firm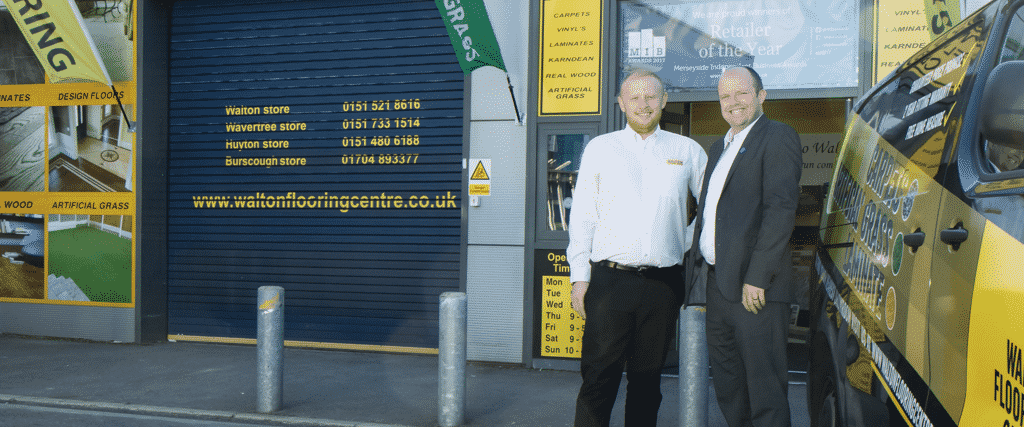 A Liverpool-based flooring company has set its sights on ambitious expansion plans after securing a quarter of a million pound bespoke finance package through Bathgate Business Finance.
We worked with Walton Flooring Centre to secure a series of deals that would support the growth plans of the family-owned business.
The largest family owned flooring company in the North West, Walton Flooring Centre has grown from just one store in Walton in 2011 to five across the region in less than seven years.
Established in 2011 by father and son team Edward and James Harper, the business was launched on a modest budget of £9,000. The pair worked seven days a week and clocked up four measures a night to meet unprecedented demand for their products and high-quality service.
The company responded to this demand by opening branches in Wavertree, Huyton, Burscough in West Lancashire and – most recently – Moreton, Wirral in September 2017.
A move into the lucrative contract market in 2018, with its high upfront purchase costs and longer payment terms, combined with a challenging period for retail sale at the start of the year, moved the company to seek short term cashflow support to enable it to continue its growth plans.
Accountant Alan Woods, Managing Director of Woods Squared Limited, introduced Walton Flooring Centre's father and son team, Edward and James Harper, to Paul Trickett at Bathgate Business Finance.
We brokered a number of deals that allowed Walton Flooring Centre to redistribute tax and VAT payments. It also secured two working capital loans worth a total of £110k to finance everyday operations, ensuring the company had enough money in reserve to support its expansion strategy and foray into contract work.
With finance in place, the flooring firm now plans to move from its current 6,000 sq ft headquarters to a new 36,000 sq ft unit in Huyton in early 2019, which will house its head office function, Huyton operations, warehouse and a training academy.
It also aims to accelerate its store launch programme, planning five new locations for 2019 creating an estimated 11 new jobs, as well as launching two e-commerce websites to further increase revenue.
James Harper, Managing Director of Walton Flooring Centre, said: "Despite a challenging start to the year we're approaching our busiest sales period in an extremely healthy position. We are starting to see the results of our investment into the contract market, which is a new area for us and significant opportunity to increase revenue.
"The financial solutions provided to us by Bathgate Business Finance have made it so much easier to operate and forecast cashflow, allowing us to invest more confidently in stock. The whole process has been incredibly simple and it has meant that we haven't lost any momentum in our expansion plans."
Paul Trickett, of Bathgate Business Finance, said: "It has been a pleasure to support James and Edward through this growth cycle and help a truly fantastic family business continue to thrive.
"We've worked together to ensure that our team fully understands their business in order to understand what works best for them and source the very best, tailored solutions. We're proud to have them as part of the Bathgate family now and wish them every success with their bold business plans."
Over the past twelve months Walton Flooring Centre has been named Retailer of the Year by national magazine, DIY Week and Business of the Year at the Echo Regional Business Awards 2018. It has also recently been shortlisted in the Retailer of the Year category at the Merseyside Independent Business Awards 2018.