Bathgate Business Finance – helping you
find the right business finance
We help companies like yours
find the right business finance.
By working closely with you, and by using our market knowledge, contacts and experience, we look to find the funding to suit your business.
We fully understand that access to finance is a fundamental requirement for any business and our role is not only to find the appropriate solution, but to also ensure that it's explained and implemented in our customers' best interests.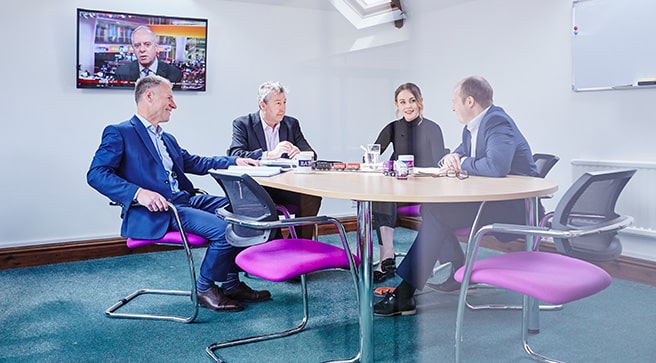 How we do things
We like the traditional way of doing business,
and recognise the benefits of face-to-face meetings.
We find this approach lets us understand our clients' business better, so we can give them the appropriate financial guidance.
We have a great deal of business experience within our team in providing financial solutions to meet the many business challenges and have built up a comprehensive panel of funders across a wide range of financial sectors.
Client feedback
Hear why our clients
love working with us
We have used Bathgate finance many times during our 14 years of business. Esther and Gordon have always been very supportive and have taken the time to get to know our business.  When we need Bathgate, the process has always been made simple and stress free which has enabled us to grow. We had 1 business when we 1st used Bathgate and now we have 5. This has been possible by their financial support.
Graham, Leaf
Having worked with Bathgate Business Finance for over 10 years we have always found them to be extremely helpful and more than willing to go the extra mile in assisting us to fulfil our financial requirements. Initially we were introduced by one of the major banks who had withdrawn from the asset finance sector which was applicable to our needs and I have to say that Bathgate more than fulfilled our expectations over the many years we have worked together. More recently we have engaged Bathgate's services in obtaining commercial finance and again they have more than fulfilled our expectations and have succeeded in obtaining the necessary finance in order for our business to progress. I would have no hesitation in recommending them to other potential clients knowing that they will provide an excellent service.
Roger Taylor, Director, Extra Logistics Ltd
Bathgate Business Finance are an excellent company to work with, we have used them for over 10 years. They are very professional, proficient and provide excellent customer service, we would recommend their services to fellow business owners.
Keith Downes, Owner, Blues Bar Crosby
Bathgate Business Finance has been an instrumental asset for us as a business in the recovery of our world post pandemic. Operating as a hospitality company, we were left bruised from an incredibly tough period and needed to reshape how we went forward and Bathgate were the right support partner for us coming with various options for us to consider. The process was smooth, quick and efficient which is what is needed in commercial finance leaving us to get on with the job of moving forward as a business. A sincere thank you to Bathgate for their support in a tough time and we look forward to working with them in the future.
Steven Burgess, MD, Lucky Penny Group
Bathgate Business Finance are a very worthy nominee for the Merseyside in Business Professional Services Organisation. The quality of support, communication and customer service that we receive from Paul and the team is exemplary and as a result Bathgate have become an important partner for TFG Ltd. They provide a professional, pragmatic and cost effective approach to our business' financial needs and have a simple and efficient process with a proactive team to deliver on a slick turnaround from enquiry to final decision which we have found invaluable.
Richard Caffrey, Financial Controller, The Forshaw Group Limited
Monopol Group has been working with Bathgate for some 3 years now and as Chief Executive, I can place on record that Bathgate has been particularly helpful and cooperative over that period. Working with Gordon and Esther has always been a positive experience and we look forward to that level of mutual cooperation continuing.
Patrick, Monopol Group